Becki Morris, British Cycling's women's cycling project manager, believes HSBC UK Breeze bike rides are the perfect way for women to reach their health and fitness goals in 2017.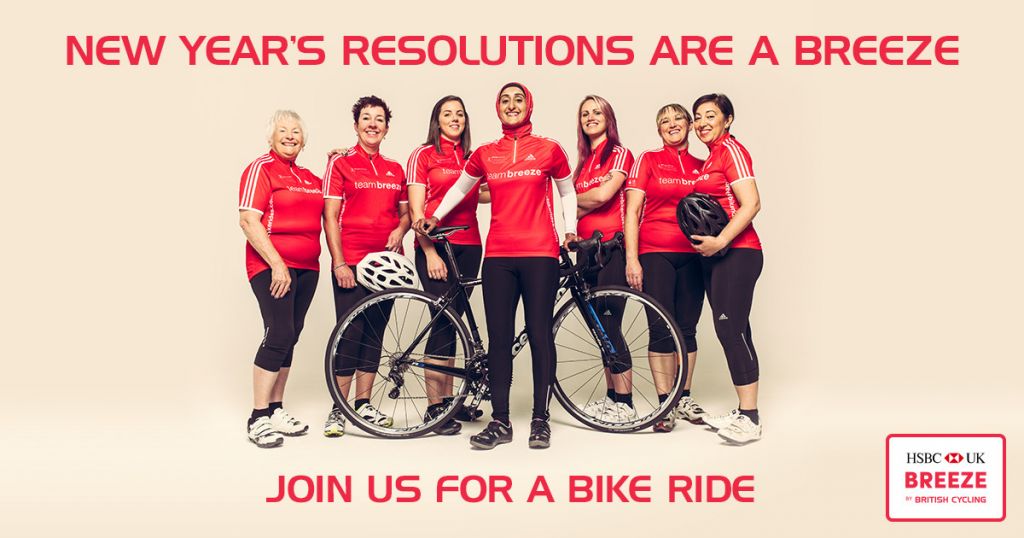 Our latest research has revealed that almost 60% of women that set New Year's resolutions focus on exercise and fitness related goals. The main motivation behind these resolutions is to improve health and wellbeing and feel better about yourself – and who wouldn't want that?

Working for British Cycling might make me a little bit biased, but riding a bike really is one of the easiest ways to exercise. It's low-impact, so it's much easier on your joints than activities like running.

It's also relatively cheap to get started – and could even save you money if you use your bike as a means of everyday transport.

Another great benefit of cycling, as many women over the years have discovered, is the freedom it gives you. You can ride almost anywhere and at any time of the year – that's right, the winter weather doesn't stop our Breeze bike rides. In fact, pedalling through the darker, colder times of the year can actually make you feel better. Exercise causes the body to release 'happy hormones' which help boost our mood and make us feel less stressed. Remember, you won't freeze with Breeze!

British Cycling's research also suggests setting targets and working on your new fitness regime with someone else makes it much more likely that you'll actually stick to your New Year's resolutions.

With that in mind, I'd encourage any woman looking for a fun and easy way to reach their health and fitness goals to join us on a Breeze bike ride.

I know the idea of going on a group bike ride can seem a little daunting at first, but more than 130,000 women have been on a Breeze ride since 2011. All of them were new once, and strangers are just friends you haven't met yet…

You also don't need to worry about being 'fit enough' either. Breeze rides vary from easygoing loops around local parks and along canal pathways to more challenging mountain bike trails and road rides, so there really is something for women of all ages and abilities.

Over time, you might even find your confidence increases as you become fitter and improve your skills. We've met many women over the years who started off nervously attending their first ride (some hadn't even ridden a bike since childhood) but have gone on not just to get fitter and more confident bike riders, but even to become inspirational Breeze Champions and organise their own rides.

It's really easy to join a Breeze bike ride. Just search for rides in your local area using the ride finder at the top of the page, and click 'sign up' to book your free place. You can also use the 'conversation' tab on each ride to leave messages for other riders or contact your Breeze Champion with any questions you might have.

So good luck with keeping those resolutions this year, and hopefully we can even help with a few!