Last weekend, our Breeze group in Stevenage set sail on a five day cycling trip to Amsterdam and back, clocking up over 300 miles in the process. Here's Vanessa's diary of the weekend.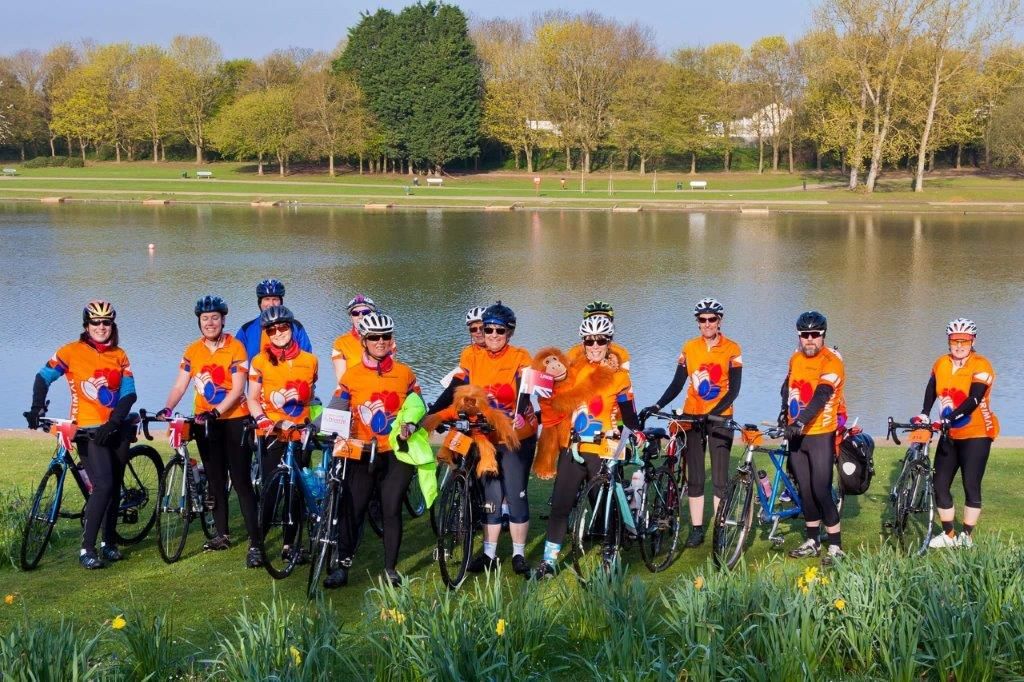 Operation Tulip

At the end of last year, a group of us decided that we would like to set ourselves a cycling challenge for 2017. Myself, Jacky and Bev, the Breeze Area Coordinator for Hertfordshire, suggested a return trip to Amsterdam, visiting the tulip fields in Keukenhof along the way.
After plenty of planning 17 of us signed up for the trip, kindly assisted by two support vehicles – driven by mine and Bev's husbands Philip and Dennis.
Day 1: Here we come!
I'm up at 6:20am. My bike is ready, and I head out to pack the car – praying that it will all fit in. Despite feeling nervous, I'm sure I'll be fine once we get moving. I hope that Jacky hasn't slept in, as she was up until midnight making the numbers to put on the fronts of our bikes!
Philip and I set off to meet everybody at Costello's Café, and at 8:20am a photographer from The Comet newspaper arrives to take a quick picture of us all.
The first part of our journey takes us from Stevenage to Harwich, where we catch the ferry to Holland. What an amazing experience!
We were led by Bev and fellow Breeze Champions Diane and Charlie, and even had time for a coffee stop at Dorringtons – a lovely bakery in Newport.
After a quick stop, a few of us set off ahead of the others. They gave us a 10 minute head start as we were slower up the hills. It took them seven miles to re-join the group, and word has it that they were sprinting to catch up!
82.2 miles after leaving Stevenage we arrived at the ferry port in Harwich – 20 minutes ahead of schedule! After a well-deserved dinner at Halfpenny Pier (who opened especially for us!) we boarded the ferry at 9pm and headed straight for the cabin.
Day 2: Good morning Holland
We docked at 7:30am local time, feeling a little tired but not as though we had ridden 82 miles the previous day. We cycled eight miles up the coast from the Hook of Holland to a friendly café for breakfast.
The next 22 miles to our chalet in Keukenhof were beautiful, and it was lovely riding in the sun and smelling the fresh sea air.
The locals were friendly and the camaraderie among the group was fabulous. I for one have never laughed so much!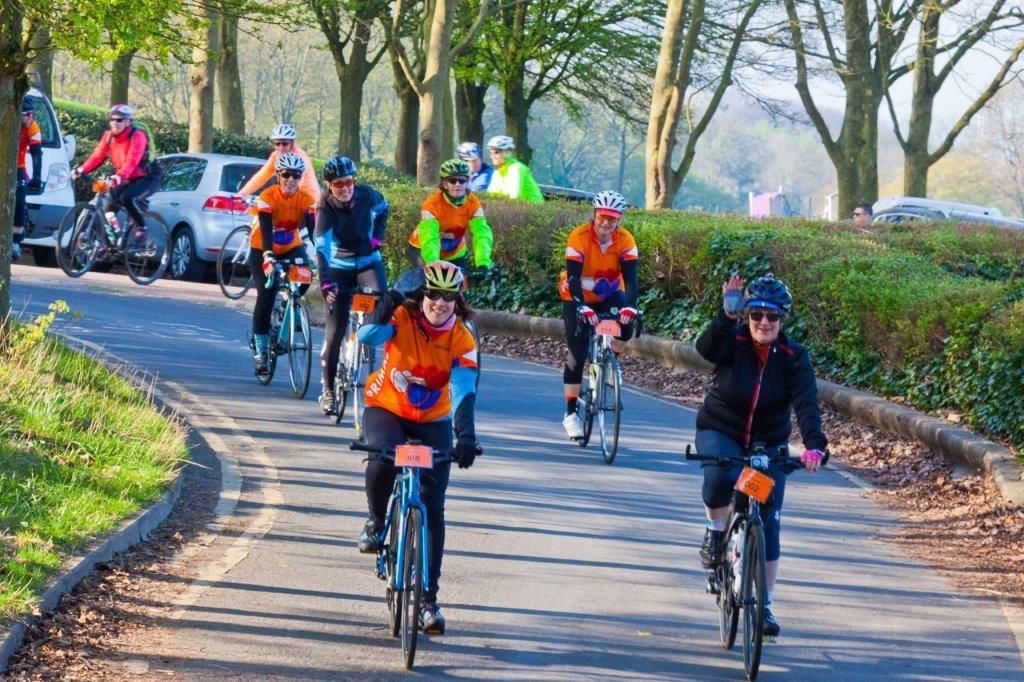 Day 3: Keukenhof to Amsterdam
The journey from Keukenhof to Amsterdam was so exciting – I've never seen so many bikes, they were everywhere!
The cycle lanes here are brilliant and the local motorists were so tolerant, especially as it took us a little while to learn the rules of the road.
We split into two groups upon arriving in Amsterdam. One group went to sit in a canal bar to relax with a drink, while the other group went to celebrate Judy's birthday with a canal boat trip to take in some of the sights.
We rode back to Kuekenhof in two separate groups as making our way through the city in a large group was rather hectic. After our evening meal we had a bit of a party for Judy's birthday back at Bev's chalet, and what a laugh we had reminiscing about our experiences so far.
Day 4: Back to the Hook of Holland
On our final ride through Holland we stopped at a lovely beach bar, before heading back along the sea front to the ferry port. I think all of Holland were out on their bikes in the sunshine.
We were all tired by the time we boarded the ferry. To complete our challenge we needed to return from Harwich to Stevenage, and that meant more teamwork!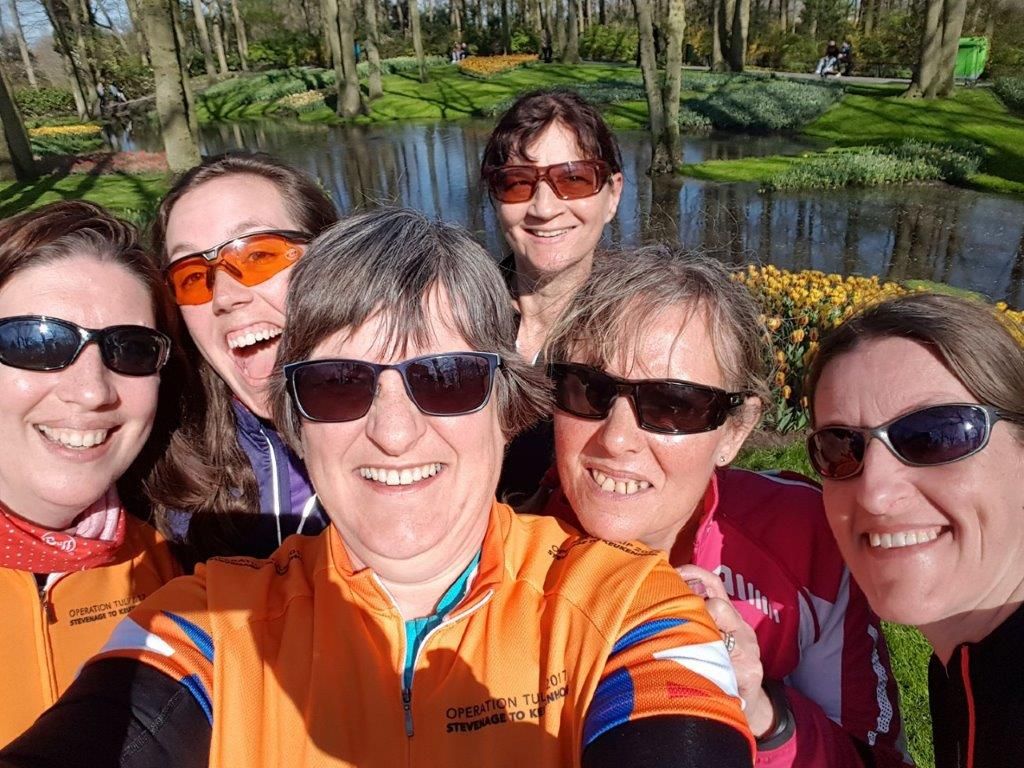 Day 5: Homeward bound
After not having a great deal of sleep on the ferry back my eyes were swollen, and we still had 80 miles to go before reaching home.
I struggled getting over the hills with my asthma in the first 20 miles or so, but managed to get through it thanks to our amazing support team. Everyone was quiet on the way back, which was down to tiredness I suppose.
We all let out a cheer when we reached the 300 mile mark. This had been the most amazing experience, I just couldn't believe what I and the team had achieved together.
I have made some fabulous friends through Breeze, and through this trip friendships have been strengthened. We did it together – Operation Tulip.
Can't wait for the next trip. We're already making plans!