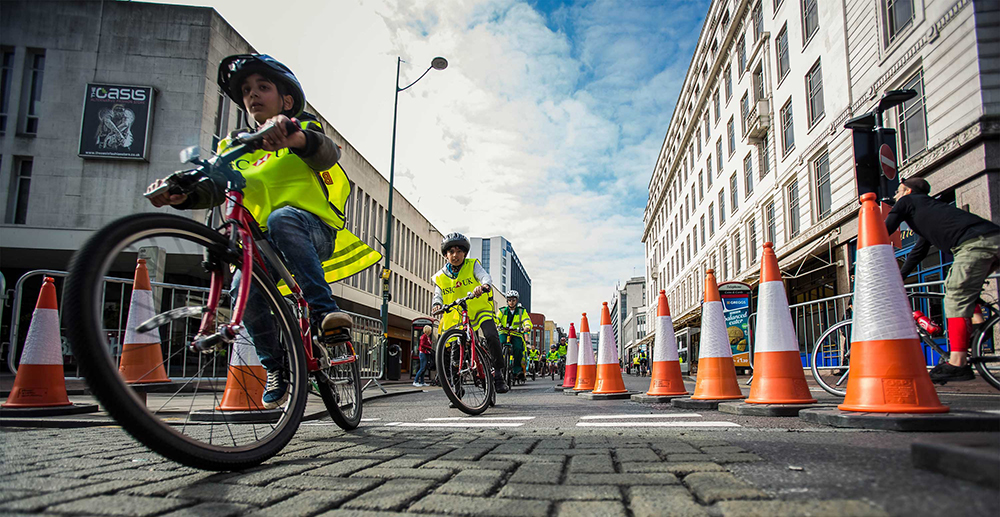 On Sunday 17 September, Coventry hosts HSBC UK City Ride Coventry. As part of a day of traffic-free cycling designed to encourage as many people as possible to get out on their bikes, Coventry City Council will be closing the following roads between a maximum period of 6.00am and 6.00pm. Roads will re-open as soon as all equipment is taken from the route after the event finishes at 3.00pm and it is safe and feasible to do so.
Ring road access: The ring road will be open clockwise. Shopping centre car parks are open. Entry and exit slip roads to the anti-clockwise ring road carriageway will be closed, except slip roads from Radford Road to Holyhead Road (Jct. 9-8), Holyhead Road to Croft Road (Jct. 8-7) and Croft Road to Warwick Road (Jct. 7-6). The inside lane of Foleshill Road roundabout (Jct. 1) will remain open. The station access from Junction 6 will also be open.
Road closures: To allow the event to take place safely we need to close roads within the city centre from 6am-6pm: Ring Road (anti-clockwise carriageway only), Little Park Street, Salt Lane, Greyfriars Lane (from junction with Barracks Way to High Street), High Street, Pepper Lane, Hay Lane, Earl Street, Jordan Well, St Mary Street, Bayley Lane, Cuckoo Lane, Priory Street, Much Park Street, St Johns Street.
Friars Road access: From 10.30am-3.30pm the junction of New Union Street and Little Park Street will be closed by the Junction 5 roundabout. Access from New Union Street to Friars Road will be managed by stop/go boards using one carriageway.
Tower Street area: There will be no access to the ring road at Junction 1. Access from Ring Road Junction 9 (Radford Road) is via Lamb Street Return to Junction 9 via Bishop Street, Corporation Street and Upper Well Street. Road closures will be in place 6.00am-5.00pm on Chauntry Place, Cook Street, Henry Street, Tower Street (from Junction 1 to Silver Street only). Access from Tower Street to Silver Street will be managed by stop/go boards using one carriageway.
Buses: Services will be subject to diversion during the road closures, see bus stop displays.
Pedestrian access: On narrow and busy parts of the route, barriers will direct pedestrians to designated crossing points and there will be diversions on Priory Street, Bayley Lane, Hales Street and Cox Street.