HOW TO CREATE A RIDE OF YOUR OWN
1. Log in to letsride.co.uk and go to your dashboard by clicking your profile picture in the top right of the screen.
2. Click 'my home' – this page shows all the rides you've been on, and those you have coming up.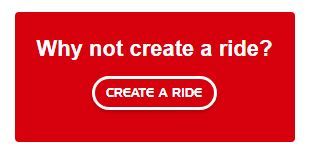 3. Find the red 'create a ride' panel and click 'create a ride'.
4. Enter some details to let other people get an idea of what your ride will be like. We'll ask you for some basic information to help people understand if the ride is right for them. Some is compulsory and some is optional, but the more you complete, the more chance you have of attracting riders to join you. You can include a picture and even upload a GPX file of your route.
5. Click 'create ride' when you've finished and you're done! You'll then be able to invite people to join you on your ride.
Any more questions about HSBC UK Ride Social? Drop us a line.