Upon announcing my retirement in March, I didn't want to walk away from cycling completely and was quite looking forward to simply riding my bike for fun. My husband, also an ex-professional cyclist, enjoys coming out on the bike with me, but he can't resist a bit of racing up the hills! His natural competitive spirit comes out, whereas I'm not so keen. Some people find this hard to believe, but having spent over a decade racing my bike I'm now more than happy just to ride for leisure and turn my competitive side to new challenges in other areas. 
I was keen to find other like-minded people, which lead me to find HSBC UK Breeze. I searched the Let's Ride website, but found there were no rides in my local area to join, so I thought why not become a Breeze Champion myself?
"I always find it a shame to hear there are people who want to get out on their bikes but don't have the confidence to, and I'd like to help people like that. I already had great admiration for the Breeze network and the more I looked into it the more I wanted to be a part of it."
I took the training course (Ride Leadership Award – level one) in May, organised by British Cycling and Carlisle City Council, and what an enjoyable experience it was! Having seen a very mixed weather forecast I packed almost every piece of kit I owned in my rucksack to prepare for every eventuality (I'm not known for my ability to travel light at the best of times!). I was also prepared with a packed lunch and snacks, but was pleased to see biscuits were provided – as were tea and coffee, but I admit I went straight for the biscuits! I was one of seven women taking the course that day and as everyone arrived it immediately felt like a very relaxed and friendly atmosphere.
We began with introductions in pairs which included answering the question of what famous person would we most like to take on a bike ride – I went with Beyoncé, naturally. Our tutor Tom was full of patience while we continued to natter away as we all got to know each other. There was a range of ages and backgrounds and it was particularly interesting for me to hear how enthusiastic everyone was about getting more women into cycling.
Once underway, Tom took us through the first modules covering the basics of group riding on the roads; how to manage a group at different types of junctions and the importance of bike safety and clothing checks. That was the theory covered, now getting outside and putting it into practice was next on the agenda. We rode as a group from the community centre in Carlisle to Hammond's Pond, just a five mile round trip, with Tom acting as the ride leader for the group. On our return, it was time for lunch before continuing with the remaining modules.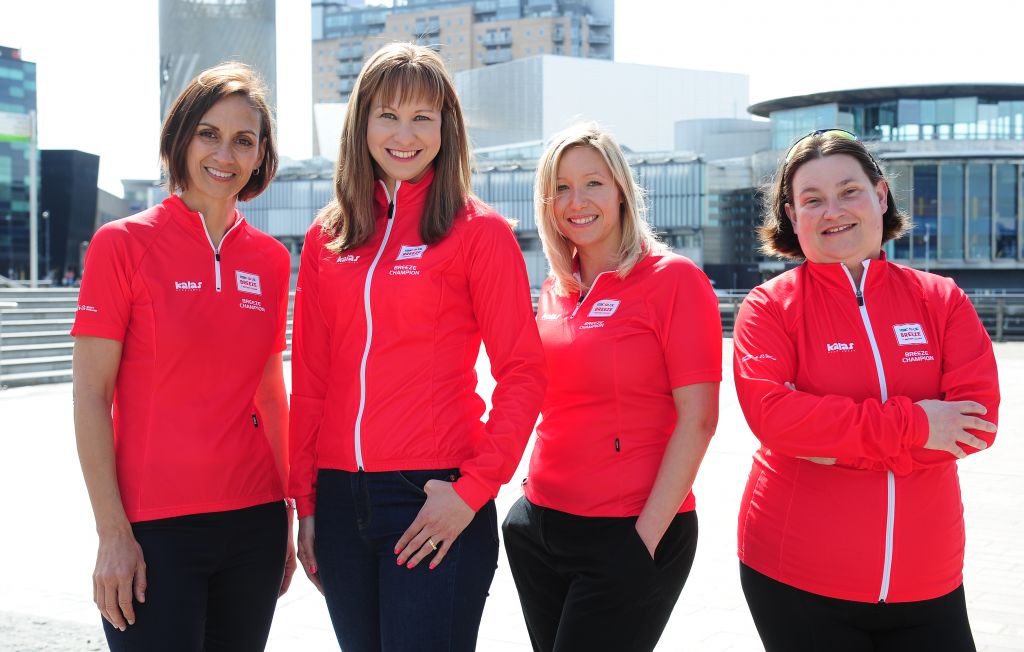 We covered route planning and risk assessments, as well as how to use the Let's Ride website and ideas to promote our own HSBC UK Breeze rides. Learning about what sort of routes would be suitable for different level groups was the most useful part for me. I was informed a café stop was high on the agenda when it came to route planning! As a full-time rider, café stops were a rarity for me, not because they weren't allowed, but they weren't a priority. Training was always about hitting the numbers and then once done I would just be keen to get home and rest up ahead of the next session. Now as a Breeze Champion I have justified plenty of "testing" of the local cafes – all in the name of research of course!
Back out on our bikes, the training course continued into the afternoon for our ride leader assessments. We began with the bike and clothing checks, then took it in turns to be either the front or rear ride leader and lead the rest of the group around the roads near the community centre. Whilst this was an assessment, it felt very relaxed and everyone was supportive of one another. Tom gave plenty of feedback and we discussed various scenarios we may encounter. Not knowing the local roads wasn't a problem, we criss-crossed our way through a housing estate and passed the community centre many times until everyone had had their go.
We finished with a bit more time in the classroom, reflecting on what we'd learnt and the next steps to organising our own HSBC UK Breeze rides. I came away from the day feeling inspired by the enthusiasm of the other women on the course and eager to get planning my first ride!
If you're interested in becoming a Breeze Champion, take a look at our
upcoming courses
.