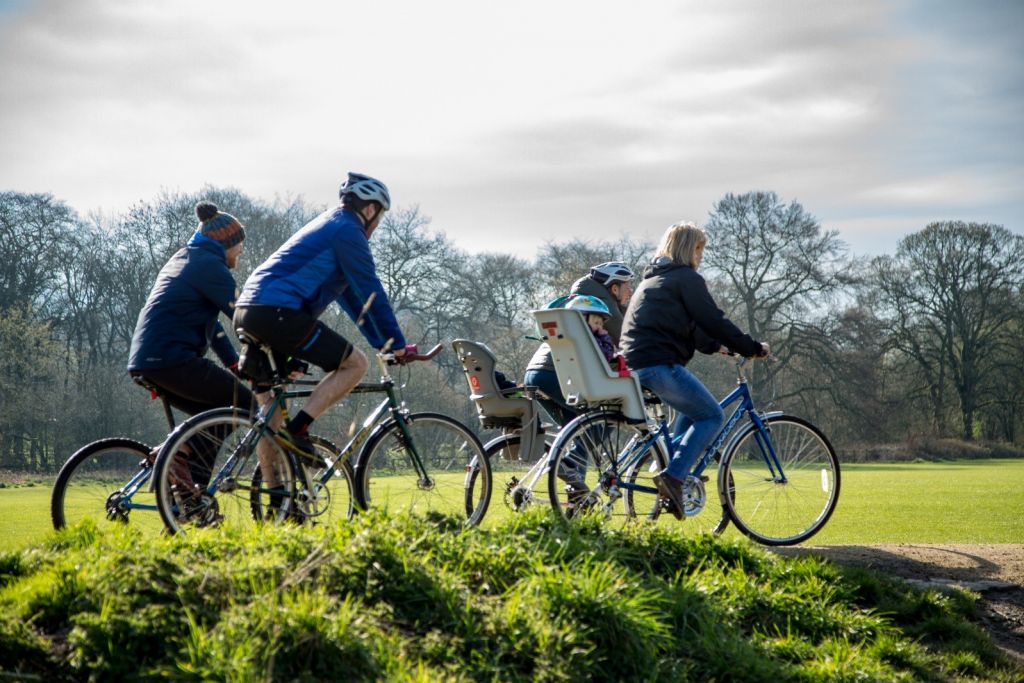 How to check if your bike is suitable

Bikes are designed in all shapes and sizes, and whilst we're confident most bikes are suitable to ride our routes there are some routes that may require a certain bike type. When searching for a route filter by bike type. Don't know which is your bike? Then read the four categories we have classified bikes as:
Mountain Bike: Has wide, knobbly tyres, making the bike stable and grippy. They often have suspension and flat handlebars, this makes the bike comfortable and easy to ride. This does make it slower across the ground than some of the alternatives, meaning longer distances may be more challenging.
Hybrid with off-road tyres: A Hybrid is the 'middle ground' between a Mountain and Road bike. They have flat handlebars, but without suspension. Off-road tyres are wide and grippy, making them suitable for all surfaces.
Hybrid with road tyres: Road tyres are the thinnest of the bunch, making the bike fast but less grippy. They are also more likely to get punctured than off-road tyres, so it's best they're kept for smooth, even surfaces.
Road bike: Thin and smooth tyres, making the bike fast but more challenging to control. This type of bike often has 'drop', or curved handlebars. They are only suitable to ride on hard, smooth surfaces such as tarmac or concrete.
Understanding our Route Information
Each route displays some basic details, so you can understand what's involved at a glance.

| | |
| --- | --- |
| | Location – Where the route starts and finishes |
| | Distance - This is the total distance of the route. We don't give you an estimated ride time as you can ride our routes at your own leisure and pace. The longer the distance the more provisions you should take, like water, food or money to buy food and drink, in addition to spare equipment like a pump and puncture repair kit / inner tube. |
| | Metres climbed – This tells you the total amount of uphill you'll cycle, but if you go up, you'll also come down! All our routes return back to the start so you ride as much uphill as you do downhill. Download the route card as a PDF if you want to see where the hills are in a route. It's important to read the scale on the left to get perspective of the hill small rises can look like large hills if you're not careful. |


Route Map
Immerse yourself in the map to learn where you might be going. Use street view to get a picture of the local park or greenspace or change the map to satellite view to know where the turns may be. You can learn a lot from a little bit of map looking.
What makes a route British Cycling approved?
All routes are planned by trained local experts: British Cycling have trained local cyclists to plan the best and safest routes local to them. Think you know your local lanes? Check your area to see if there any hidden gems.
All routes are risk assessed: Our trained volunteers have ridden every route - several times - and designed them with your safety in mind.
It's all about having a great experience: Our routes are as safe as we can make them, but they are also a great experience. We want you to enjoy the ride and experience what the location has on offer. Rivers, forest, history and views: we've got them all!